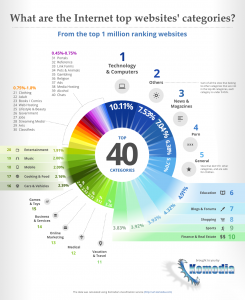 TEL AVIV, ISRAEL (See original on PRWEB) November 27, 2012
On November 2012 Komodia.com completed an online experiment to determine if the claim is true that the largest category of Internet Web Sites are dedicated to the Adult Industry. This was no simple task, as the Komodia team checked the category distribution of the top one million ranked web sites.
Komodia has been running a critically acclaimed URL classification service that can place a domain, or a single page, into one of 100 categories. This useful data can be used for: Parental Controls, Employer Controls, and Advertising Relevancy. As reported by the company, an Advertiser can now target their Advertising to exact domains, or even single domain pages, for a better ROI.
As Komodia delved into its statistical analysis, several very interesting facts emerged. The first analysis was to see what the top Internet categories would reveal. These are the reported results:
Top Category: Technology and Computers, with 10.11%.
Second Category: Others, being defined as the sum of all categories that had under 0.45% representation.
Third Category: News and Magazines with 7.04% representation.
Fourth Category: Adult Sites, with 6.38% representation. A real eye opener.
Fifth Category: General, being defined as sites that could not be categorized under one of the 100 existing categories, but are safe for children. Not Adult, Gambling, Hate, etc.
Taking it one step further, the Komodia team extrapolated even more in-depth details, such as:
Finance Category is number ten. Contrary to popular belief, the money category takes a back seat to many others.
Gambling is at 0.65%, while Religion is at 0.58%. Note which is more prevalent.
Drugs come in at 0.2%, and do not occupy any of the top 40 categories.
Warez (illegal downloads) comes in at number 41, with a 0.43% share.
Nonsense Sites come in at number 50, with a 0.22% share, and encompasses sites with no substantial intellectual value.
Komodia reports having a URL database that is six million strong, and is refreshed every 3-7 days, which allows for detection of parked pages containing links that may differ from the site's original theme, and may represent a threat. This is a cloud based service, but may be hosted on the client's in-house server.
At a recent interview, Barak Weichselbaum, CEO and founder, had this to say: "Because our classification service uses a new generation engine, our operating costs are lower, which results in a lower cost to our customers".